Simple Interest questions and answers in Hindi
5b18f6a456849125461880e4
5a673ccd63b436e8b899e064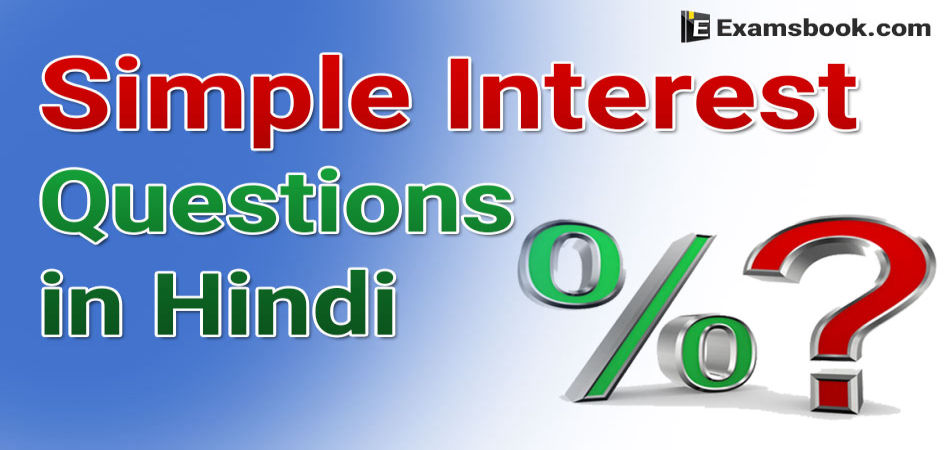 Simple interest questions are confusing questions for most of the students. Usually, simple interest questions asked in SSC, Bank Exam and other competitive exams. So, students should practice these simple interest questions and answers to get a good score in their competitive exams.
For scoring better you can visit on simple interest formulas with examples that how to use fomulas in different questions. Click on simple interest questions with answers for more practice in English.
हिंदी में इन महत्वपूर्ण और चुनिंदा सरल ब्याज प्रश्नों और उत्तरों के साथ अभ्यास करें और अपने प्रदर्शन स्तर को भी बेहतर बनाएं। हिंदी में इन साधारण ब्याज प्रश्नों और उत्तरों को हल करने का प्रयास करें ता जो आपको अपनी परीक्षा में परेशानी का सामना ना करना पड़े।
Simple Interest Questions and Answers in Hindi:
1. एक व्यक्ति ने रु 8500 साधारण ब्याज पर 9% वार्षिक दर से उधार लिए

वर्ष के अन्त में उसे कितना धन वापिस देना होगा ?
(A) रु 10412.50
(B) रु 11412.50
(C) रु 12412.50
(D) रु 13412.50

Ans . A

2. X तथा Y को दो सामान राशियाँ 7.5% वार्षिक दर से क्रमश: 4 वर्ष तथा 5 वर्ष के लिए उधार दी गई. यदि इनके द्वारा दिए गये ब्याज में रु 150 का अंतर हो, तो प्रत्येक दी गई राशी कितनी है ?
(A) रु 500
(B) रु 1000
(C) रु 2000
(D) रु 3000

Ans . C

3. एक राशी का साधारण ब्याज की किसी दर पर 2 वर्ष के लिए निवेश किया गया. यदि यह निवेश 3% अधिक ब्याज की दर पर किया जाता, तो रु 72 अधिक मिलते. यह राशी कितनी है?
(A) रु 1200
(B) रु 1500
(C) रु 1600
(D) रु 1800

Ans . A

4. किशी धनराशी पर 8% वार्षिक दर से 6 वर्ष में उचित साधारण ब्याज रु 1200 है. इस मूलधन से तिगुनी राशी पर 10% वार्षिक दर से 2 वर्ष के अन्त में साधारण ब्याज कितना होगा?
(A) रु 3750
(B) रु 1250
(C) रु 3650
(D) रु 1950
(E) इनमे से कोई नहीं

Ans . E

5. समिता ने 6% वार्षिक दर से साधारण ब्याज पर कोई ऋण लिया. यह दर प्रति वर्ष 1.5% वार्षिक दर से बढती है| तीन वर्ष की समाप्ति पर वह रु 8190 ब्याज के रूप में देती है| यह ऋण-राशी कितनी है ?
(A) रु 3600
(B) रु 35400
(C) रु 36800
(D) निर्धारित नहीं की जा सकती है
(E) इनमे से कोई नहीं

Ans . E

6. A ने B को रु 5000, 2 वर्ष के लिए तथा C को रु 3000, 4 वर्ष के लिए साधारण ब्याज की एक ही दर से उधार दिए | उसने उन दोनों से ब्याज के रूप में कुल रु 2200 प्राप्त किये| ब्याज की वार्षिक दर कितनी है?
(A) 5%
(B) 7%
(C) 8%
(D) 10%

Ans . D

7. कितने समय में 3% वार्षिक दर से रु 8000 का साधारण ब्याज उतना ही होगा जितना की 4% वार्षिक दर से रु 6000 का साधारण ब्याज उचित होगा ?
(A) 3 वर्ष
(B) 4 वर्ष
(C) 5 वर्ष
(D) 6 वर्ष

Ans . C

8. कम से कम कितने वर्षो में रु 2600 का

%% वार्षिक दर से साधारण ब्याज पूरे रुपयों में होगा ?
(A) 6 वर्ष
(B) 5 वर्ष
(C) 3 वर्ष
(D) 2 वर्ष

Ans . C

Ask me in the comment section, if you face any problem while solving simple Interest questions. Visit next page for more practice of simple Interest questions and answers.
<!
Showing page 1 of 4
en
https://www.hindi.examsbook.com/simple-interest-questions-in-hindi
4
1
simple-interest-questions-in-hindi