SSC GK Question with Answer in Hindi
5b6abbeda9273414b9480a17
595217d8febf4b764b059d3a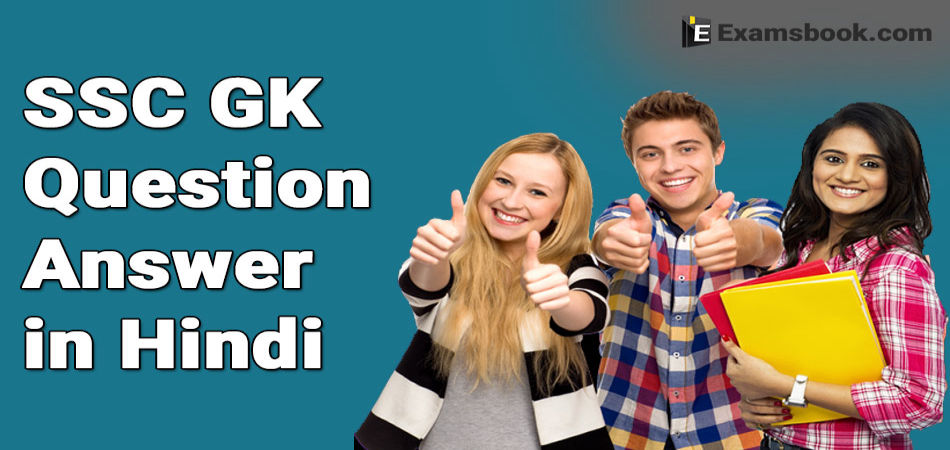 All we know SSC exam is one of the very tough exams that's why we collect the thousands of general knowledge questions and answers which is very important for that. SSC GK part is the less time consuming and high scoring section. If you want to get more score that time you have to need to attempt GK Section.
So, I am sharing 50 important question of SSC GK Questions with Answers in Hindi for your best practice. These GK questions are very important because it has been come in previous SSC Exam.
SSC GK Question with Answer in Hindi
Q.1 हमारे भोजन में कौन से तत्व उर्जा के मुख्य स्रोत होते है?
Ans: खनिज
Q.2 पहला 'उपग्रह' सफल रूप से कब छोड़ा गया था?
Ans: 19 मार्च, 1973
Q.3 इनमें से किस "विकिरण" के कारण कैंसर पैदा होता है?
Ans: अल्ट्रा-वॉयलट
Q.4 कृत्रिम उपग्रह अपनी भू-स्थिरीय कक्षा की परिक्रमा में कितना समय लेता है?
Ans: लगभग 24 घंटे
Q.5 डा. कलाम जी का देहांत किस राज्य में हुआ?
Ans: मेघालय
Q.6 कितने गृह प्रथ्वी की तुलना में सूर्य के निकट है?
Ans: दो
Q.7 'हाईड्रोजन बम्ब' किस सिद्वांत पर आधारित है?
Ans: नाभिकीय विखंडन
Q.8 सौर उर्जा के सैल किसके बने होते है?
Ans: सोल्डर
Q.9 "कोकरोच" (तिलचट्टे) के खून का रंग क्या होता है?
Ans: सफ़ेद
Q.10 भाप चलित इंजन उर्जा को परिवर्तित करता है?
Ans: यांत्रिक उर्जा में
If you have any problem or doubt regarding SSC GK questions with answers in Hindi, you can ask me in the comment section. To more practice for SSC GK Questions and Answers, Visit next page.
Showing page 1 of 6
en
https://www.hindi.examsbook.com/ssc-gk-question-with-answer-in-hindi
6
1
ssc-gk-question-with-answer-in-hindi